<< Nov 24, 2005 @ 10:09 >>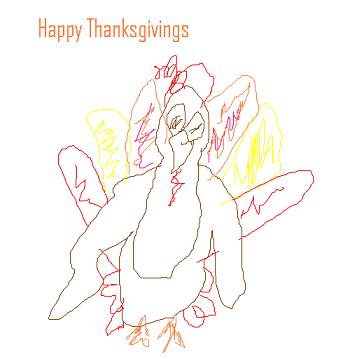 Happy Turkey Murder Day from Microsoft® Paint™ on my parents' PC.

Fucking hell, why does Windows still capitalise file extensions?
Reader Comments...
Your first problem is that you are using Microsoft Paint. That and Photoshop are the only things that want to make upper case extensions on my windows box.
Man... is anyone watching CNN? Oh man... I think I hate America.
Holy Shit. The Wal-Mart Corporate Affairs Director is the most amazing spin doctor I've ever seen. Wal-Mart is a caring, sharing, happy organization, bent on making me feel comfortable. Must eat brains.
Holy shit, CNN has a flu map. They show you which states have different levels of flu activity. Why? Gahhhh
Heh. The US Chamber of Commerce wants to tax hybrids because right now they might not be paying enough road taxes due to decreased fuel consumption. I... errr.. whaaaa?
Stop leaving messages on my answering machine. It's not that I'm not home, I'm just not picking up.

P.S. wunderground has had a flu map for years.
We didn't have Scrabble so me and my sister played Jenga Ship instead. That's right, Jenga + Battle Ship. Although, the plan is to go buy Scrabble so that we can actually play Scrabble Ship.

"You sank my Scrabble Ship!"

"This game makes no sense."
If you were here, we would have gone to Grumpys. OH SNAP, I ALREADY WENT!

It's not the same, jerkweed. Come back! DRINK!
WHERE THE XOPL IS XOPL?
Add a Comment...