<< Feb 15, 2006 @ 07:41 >>
This just in... http://fantasygoat.livejournal.com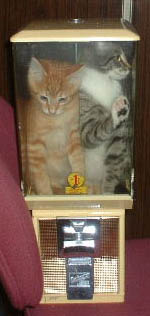 What's funnier than kittens in a vending machine?

Kittens in a blender!


Reader Comments...
not oakwhiz (guest)
That's not a cat in a blender.
You are right...... it is two kittens in a blender.
not oakwhiz (guest)
...whatever.

My point is, there aren't any cats or kittens--dead or alive--present in that blender.

I rest my case.
I think it might be oakwhiz in that blender.
No felines were harmed in the making of this website...

except for the two kittens we put in the blender for that photo.
not robert (guest)
yay kittens in a blender
not oakwhiz (guest)
lol
not abababbabababab (guest)
LOL funny LOL fun LOL fun in the sun kfdnthyo
not nemo (guest)
bubble i like bubbles from nemo
not yesforshort (guest)
hahaha lol i think if i was a cat i would like to eat suci before i died ?
not Unclevertitle (guest)
not Decessus (guest)
Is that real? If it is your gay and fucking retarded. How can you do that do a cat? T_T

In other words, screw you.
not kim (guest)
you idiot, thats isnt funny and if u do tht again i will report u , u retard, how wuld u like it if i put u in a blender and blended it up. its people like u tht maake me sick!!!!!
Add a Comment...