<< Jan 10, 2005 @ 05:46 >>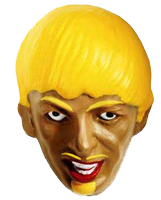 I find it personally offensive that they are obviously using a caricature of me cerca 1999 for the Jerk Test at TheSpark.

I stole your middle finger. Now who's the one in charge?
Reader Comments...
circa instead of cerca?
Correct.
Hey you are not that hot. I painted my lighter to match my polished nails.
fuck die
74 (#074)
I hate everybody that posts here except xopl and sith33. That's right, I do, dick.
Pamela is hot though.
sith, you must be desperate.

74, you are just jealous of my lighter. It matches my nails, dick!
Just kidding, I love you. So much it hurts. I take it all back.
I'm saving myself for Zach.
I'm whoring myself out for sith.
74 (#074)
You missed the meaning Pam, I wasn't calling you a dick. The first line clearly stated I hated you. No clarifications needed. The second line was for anyone who paused to realize the fact that I post here myself. So, I wasn't calling you a dick, just saying that I hate you.
Add a Comment...