<< Nov 7, 2006 @ 18:01 >>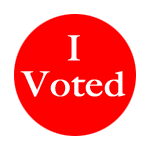 I voted. I hope you voted. It's not too late for you to vote in many states. I was voter number 1,549. I voted last year at the same time of day in a city election at the same precinct, and I was only voter number 500-something. So that's good I guess. It wasn't busy at all, though. And I was registered so they just asked me my name and then asked me to say my address.

Hold onto your asses. [fingers crossed]
Reader Comments...
not dani (guest)
In 2000, Chipotle gave free burritos to people with the sticker. It was glorious.
This year even Noah got a sticker.
not dani (guest)
I'm never voting absentee again.
I didn't get a fucking STICKER!!!!!! I JUST GOT A LAMEASS RECEIPT!!!!! I'M NEVER VOTING AGAIN
Add a Comment...