<< Dec 1, 2005 @ 20:26 >>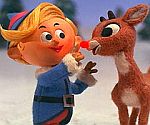 Ho-Ho-Holy crap! The Family channel is doing a marathon of Rankin-Bass christmas cartoons/claymations on Saturday! Holy crap! There is one on right now! Holy crap! Rudolf the red nosed reindeer is hanging out with the Three Little Pigs.

WTF?!
Reader Comments...
not Cephalopod (guest)
not Cephalopod (guest)
I'm a moron. (Last post intended for a different topic, feel free to delete both.)
Add a Comment...