<< Dec 1, 2005 @ 17:37 >>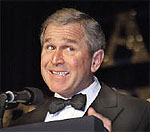 No Iraq pullout without victory... that lends itself to an Onion style news story:

"Bush refuses to pull out of Iraq, gets her pregnant."

Of course then the Republicans would spin it:

"Pulling out doesn't work. She was gonna get pregnant anyway."
Reader Comments...
gah! Oh! whew. did that get in your eyes? I'll get some wet wipes...
Add a Comment...